Manycore and Accelerator-based High-performance Scientific Computing
Visitor Information
UC Berkeley/LBNL, Berkeley CA, USA

Tutorials  January 24 – January 25, 2011
Workshop   January 26 – January 28, 2011
The CITRIS Headquarters is located in Sutardja Dai Hall and the Banatao Institute @ CITRIS Berkeley. We encourage everyone to GO GREEN and use public transit when visiting the campus. The map highlights the most convenient BART Station, Public Parking as well as the location of the CITRIS Headquarters. Campus shuttle and public transit information can be found on the visitor services page of the UC Berkeley website, or visit 511.org.
Printable Map/Directions:
UC Berkeley – CITRIS Headquarters 330
Sutardja Dai Hall, MC 1764
Berkeley, CA 94720
USA
Detailed Map & Directions, including public and campus parking (permits required)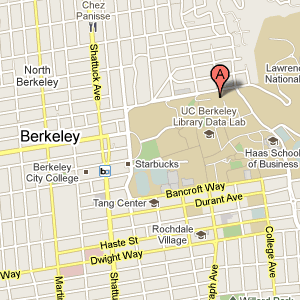 Parking
Parking around campus is very difficult, please try to use public transportation whenever possible.
Campus Parking Pass:
If CITRIS arranged for a pass, it should be picked up at the East Gate. From Hearst Avenue, turn right onto Gayley, and take your first right onto campus (directly across from the Greek Theater). You may pick up your pass at the East Gate and either try to find a spot on campus or turn left onto Gayley, and park in the structure on the corner of Hearst and Gayley. There is limited meter parking (1 or 2 hour maximum) on Hearst Avenue. Non-metered spots surrounding campus require a special permit after two hours.
Public Parking Structures:
http://www.ci.berkeley.ca.us/ContentDisplay.aspx?id=8260
Public Transportation
Taxis
Expect to pay about $35 for a taxi from the Oakland Airport to the Hearst Memorial Mining Building and about $45 to $50 for a taxi from San Francisco's airport.
American Yellow Cab - (510) 655-2233
Berkeley Yellow Cab - (510) 528-9999
Shuttles
Travelers to the Bay Area may fly into either Oakland or San Francisco. The Oakland International Airport is closer to Berkeley. A shuttle from Oakland Airport is about $20 and from $25 to $40 for a shuttle from San Francisco Airport (SFO). For airport shuttles from either airport, you should to call 24 hours in advance and again upon your arrival at the airport.
Bayporter - (510) 864-4000 or (415) 467-1800
Bridge Airporter Express - (800) 300-1661
City Express Shuttle & Limo - (888) 874-8885
South & East Bay Connection - (800) 548-4664
Accommodations
Hotel Information: Preferred Hotel Directory
Hotel Name/Address

Rate

Berkeley Lab Guest House
One Cyclotron Road, Building 23
Berkeley, CA 94720
(510) 495-8000
berkeleylabguesthouse@berkeley.edu

$100.00 (plus 2 other rates. Check HERE for details)
Rates are fully reimbursable, and exempt from all taxes
Wil direct bill
Limited free parking

CLAREMONT RESORT AND SPA
41 Tunnel Road
Berkeley, CA 94705
(800) 551-7266 ext.# 1 - Reservations

$115.00 plus tax-valid through Dec. 31, 2010
Parking Included
Note: Ask for Berkeley Lab Rate
Will Direct Bill

HOTEL DURANT
2600 Durant Avenue
Berkeley, CA 94704
(510) 845-8981
(800) 238-7268

$110.00: Jan. 1, 2010 – Dec. 31, 2010
Will Direct Bill
Note: Ask for Berkeley Lab Rate

DoubleTree by Hilton Berkeley - Marina
200 Marina Blvd.
Berkeley, CA 94710
(510) 548-7920
(800) 333-3333

$94.00 – Government rate
Will Direct Bill
Free Parking

DOWNTOWN BERKELEY INN
2001 Bancroft Way
(Cross street: Milvia)
(510) 843-4043
Fax: 843-4046

$89.00: valid through April 30, 2011
$99.00: March – October
Will Direct Bill
Free Parking
Note: Ask for Berkeley Lab Rate

FOUR POINTS SHERATON EMERYVILLE
1603 Powell Street
Emeryville, CA 94608
(510) 547-7888
(800) 325-3535

$94.00 - Government rate
Free parking

COURTYARD BY MARRIOTT
5555 Shellmound Street
Emeryville, CA 94608
(510) 652-8777

$94.00 - Government rate
Will Direct Bill
Hertz Car rental desk on premises
Free parking

HILTON GARDEN INN
1800 Powell Street
Emeryville, CA 94608
(510) 658-9300
(800) HOLIDAY

$94.00 - Government rate
Free parking

THE FRENCH HOTEL
1538 Shattuck Avenue
Berkeley, CA 94709
(510) 548-9930

$95.00-Valid through Dec. 31, 2011
(Free Limited Parking)
Will Direct Bill

VISTA INN & SUITES
1761 University Ave
Berkeley, CA 94703
(510) 841-4242

$89.00-valid through Dec. 31, 2010
Will Direct Bill
Free Parking
Note: Ask for Berkeley Lab Rate

HOTEL SHATTUCK PLAZA
2086 Allston Way
Berkeley, CA 94704
(510) 845-7300

$112 plus tax-valid until Dec. 31, 2010
Will Direct Bill